Gozo meaning "joy" in castilian is the name the Aragonese gave this island, when they possessed it in 1282. The idea of joy and pleasure is also conveyed by its Latin motto "Fertilis ab undis caput iffero – a fruitful land raising its head from the sea". We know that the Phoenicians, when it was theirs in 700Bc, called it "Gwl" or Gaulos, meaning a round ship, possibly in reference to the island's shape from a distance, a name the Romans kept when they, in turn took it over in 218AD. The Arabs, who came to rule this precious piece of land a thousand years ago, and who strongly influenced its Semitic language, left behind the name that has stuck in the vernacular:Ghawdex (pronounced Aw-desh).
Gozo is the second largest island of the Maltese Archipelago that consists of three islands known as Gozo, comino and mainland Malta. Millions of years ago the Maltese island were the elevated regions on a mass of land extending southwards from nearby Sicily. This continental shelf was submerged when the sea level rose during the interglacials leaving those land tips exposed in the centre of the Mediterranean Sea.
Roughly circular in shape, 14km by 7km in area, Gozo is hilly and from the south-west to the north-west, the coast is entirely surrounded by cliffs. The hills of Gozo are curiously rounded and flat-topped, the result of hard rock lying on top of softer rock. The highest point on the island rising 190 metres above sea level is TacDbiegi hill on the outskirts of the village of San Lawrenz. The southern part of the island facing Malta, is low lying, but it rises near the coast and forms the vertical cliffs of Ta cenc that jut out like a bastion into the sea. Several narrow valleys cut through and dissect the plateau – the best known being Marsalforn, Xlendi and Ramla l-Hamra.
Gozo is rural and simple, its culture and way of life rooted in fishing, and in primitive pastoral and agricultural activity. Tomatoes, potatoes, onions, melons, grapes, figs, oranges, and tangerines are the island's prime agricultural produce.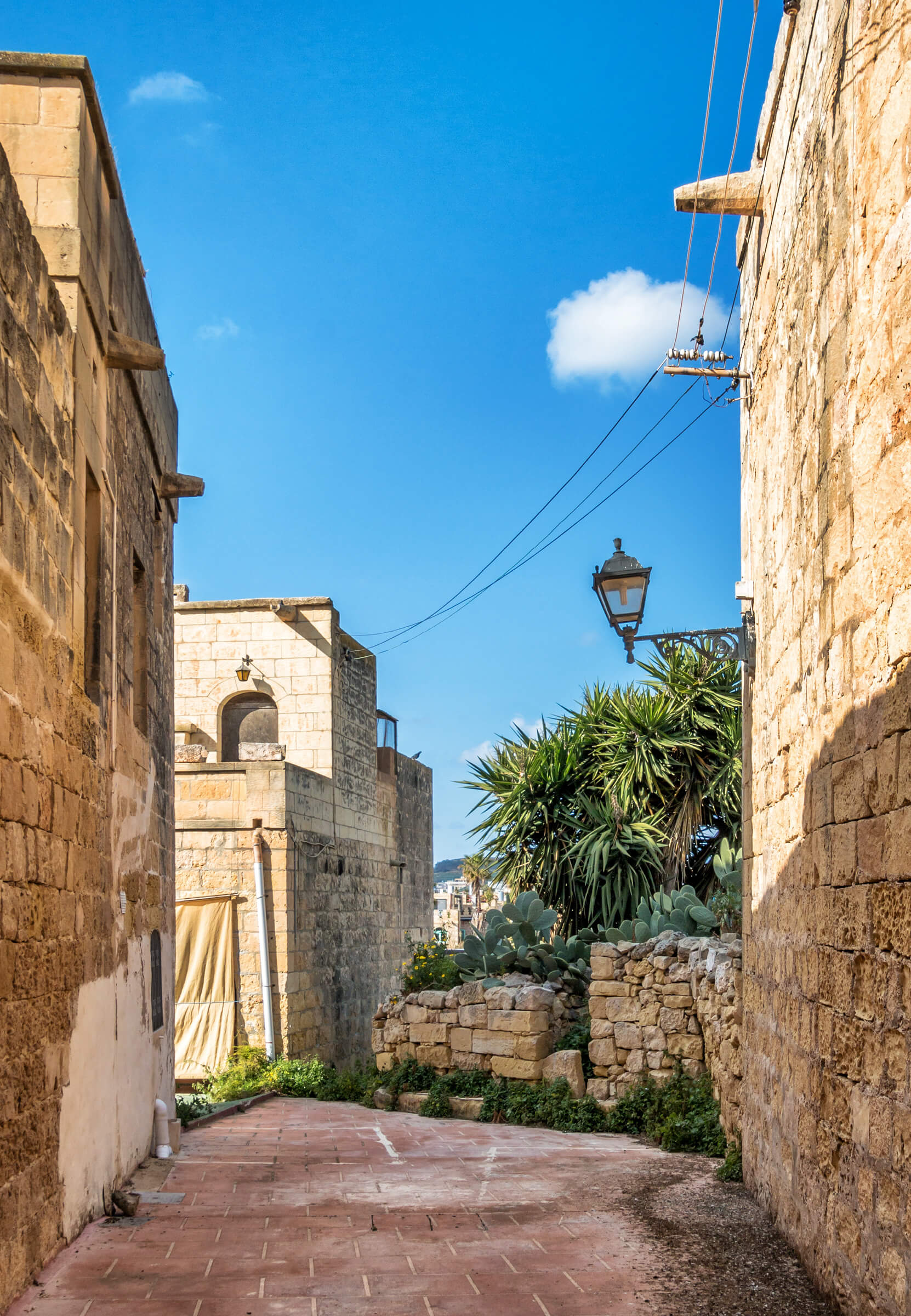 Gozo though separated from mainland Malta by a 5km stretch of Mediterranean sea is distinctly different from Malta. The soil is fertile as much blue clay is present. This means that rain water does not sink through the ground quickly and is the reason why Gozo always looks greener for most part of the year.
Gozo's population of approximately 29,000 is not so much in evidence, except in the in the bustling little square in what makes for the main town, Victoria, so named in 1897 in honour of Queen Victoria's jubilee and where a fifth of the population resides.
The local people have resolutely stuck to their own name of Rabat, instead of Victoria. Like other Rabats in the one-time or present Arab world, this Rabat, has its medina, the fortified citadel atop a summit, which shelters the old town and which once offered security from raiders. This haunting citadel, a favourite spot for true romantics, has only a few splendid old houses and a lovely small cathedral encircled by the spectacular bastion walls. At night, with moonlight filtering through the ruins and the aged stones of ancient palazzi, it is almost possible to feel the spirits of those who lived, laughed, cried, loved, played – and died- here, when the world was a very different place, but Gozo was much the same.
The island's hamlets and villages, which are perfectly, still, with their strong wooden doors closed and their windows shuttered, appear to be deserted at certain times of the day. A boy in shorts might free-wheel an old bicycle down the centre of the main street, or a girl in a shaded cotton dress might run to her grandmother's home with a reed basket containing a fresh loaf and some tomatoes. A dog might twitch its tail, lying stupefied by the heat and the silence, right in the middle of the road. But sounds are muted and movement at a minimum.
There is no fear in walking about at night. The sense of safety and security is tangible. The people of this island take pride in the absolute absence of muggings and the almost non-existence of theft. Until fairly recently, when they were not at home, the villagers of Gozo left their keys in their front doors, a custom which can occasionally still be seen.
Gozo is tranquil, and treasures its peace. For some, the silence can be overwhelming, but not to those for whom it spells a blessed a blessed respite from the trials and tribulations of everyday life. Gozo is not for those who like wild clubbing, bur for those who treasure their peace of body and soul and a slow rhythm of life, although a couple of excellent night spots are a hive of activity among the locals during the summer months.
Village bars open early in order to cater for the early risers who attend the first mass of the day and close fairly late at night, catering to the socialising needs of locals and visitors alike. These watering-holes, with their wooden chairs, marble counters, and large metal trays containing this local delicacy, pastizzi, are a cultural icon. They have stayed unchanged for decades, the only sign of time passing by being the food and drink displayed for sale on the solid shelves and in the Edwardian glass cases.
The island is well served by restaurants, where the eating is good and varied. The visitor is spoilt for choice. Apart from restaurants and cafes offering local dishes as well as continental menus, one can also enjoy theme restaurants such as chinese and Indian.
Restaurants abound in Rabat, Mgarr and in the fishing villages of Marsalforn and Xlendi, as well as in several other places. At the end of a day of pleasure on the beach, the most enjoyable epilogue is dinner al fresco in one of these places. A particular local dish is rabbit stewed in wine. Octopus stew with spaghetti is also very typical. Very tasty are a variety of soups and dishes with freshly caught local fish. A quick lunch with local cheeselets, olives, tomatoes, olive-oil and fresh bread washed down with a glass of wine is a real treat. Juicy prickly pears as a dessert may prove delicious and a small jar of the world renowned pure Gozo honey may be taken home to be shared with family and friends.
In this pastoral atmosphere, you will occasionally come across the incongruity of an International Herald Tribune, a Guardian, or a Frankfurter Allgemaine. Gozo is peaceful, but it is not isolated, and the newspapers get there on time, which may be bad news for visitors who want to escape the headlines from their own country. But as they say, no man is an island and where better to communicate then over a beer or two, accompanied by bowls full of roasted peanuts and some sun-dried tomatoes?
Gozo and its inhabitants have their own distinct character and identity, and noticeably different lifestyles, accents and dialect. Those who live in Gozo pointedly describe themselves as Gozitan, while those who live in Malta call themselves Maltese. Through the centuries, the Gozitan has developed a strong and independent character. A conservative person with staunch, clear thoughts, unaffected by what others think about him and who carefully deliberates every action to determine its compatibility with his interests and plans. Gozitans are hard-working and diligent, known as able farmers. The tourist who spends time on the island will surely experience the friendliness of the Gozitans. The young children and the old folk alike will go out of their way to indicate a direction or help a visitor find a hotel or apartment.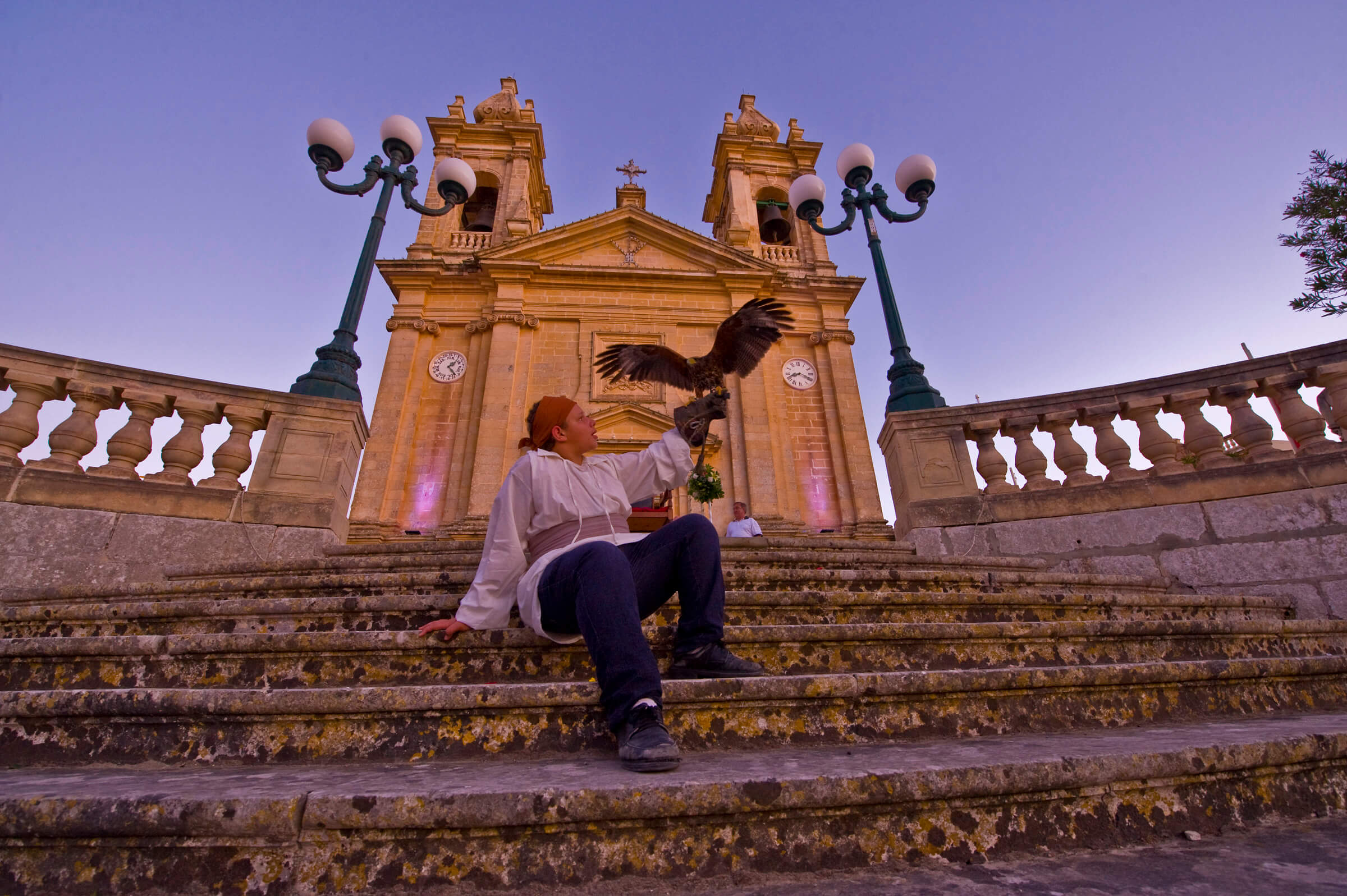 Gozo is renowned for its cottage industries, particularly spinning and weaving, and the creation of jumpers and jackets from the wool of sheep and goats.
Lace is the most widespread doorstep craft. It was introduced on a large scale after the 1840's. The craft soon proved its worth for the product was sold to the higher classes of society and even abroad. It was very common, especially in the afternoon, to see mothers with their daughters sitting on empty wooden lemonade crates with a lace pillow in their lap rested against the wall, their hands moving bobbins swiftly and deftly creating the most intricate and delicate of designs. Gozo lace is an object d'art and it continues to flourish despite competition from machine made lace.
The men make lace of a different variety: silver filigree, twisted into miraculous pieces of jewellery. And there is fabulous glass, with remarkable shapes in subtle shades of blue and green. Pottery is widely available, ranging from decorative pots and statuettes to imaginative house name plaques and door numbers.
Crafts that are rarer still include palm work, palm leaves that are woven into sun-hats or baskets, cane work, especially practised by fisherman during winter during winter to make cane curtains, carvers or sculptors, working the local stone or papier mache, producing statues and other objects to their own design, wood-workers that can construct anything from frames of grandfather clocks to limitation antiques chests of drawers and guilders, a craft that is gaining popularity.
Change is slow in Gozo, which adamantly sticks to its tortoise-like pace. Gozo has still succeeded in retaining its dream-like qualities of peace and solitude. If Ulysses were to come here today, he would find it even harder to leave.