Gozo's crystal clear seas and secluded coves make it a haven for sailing enthusiasts. Whether in a small dinghy or a large sail boat, the choices are vast and the island's small size gives some unexpected advantages.
What's the big attraction?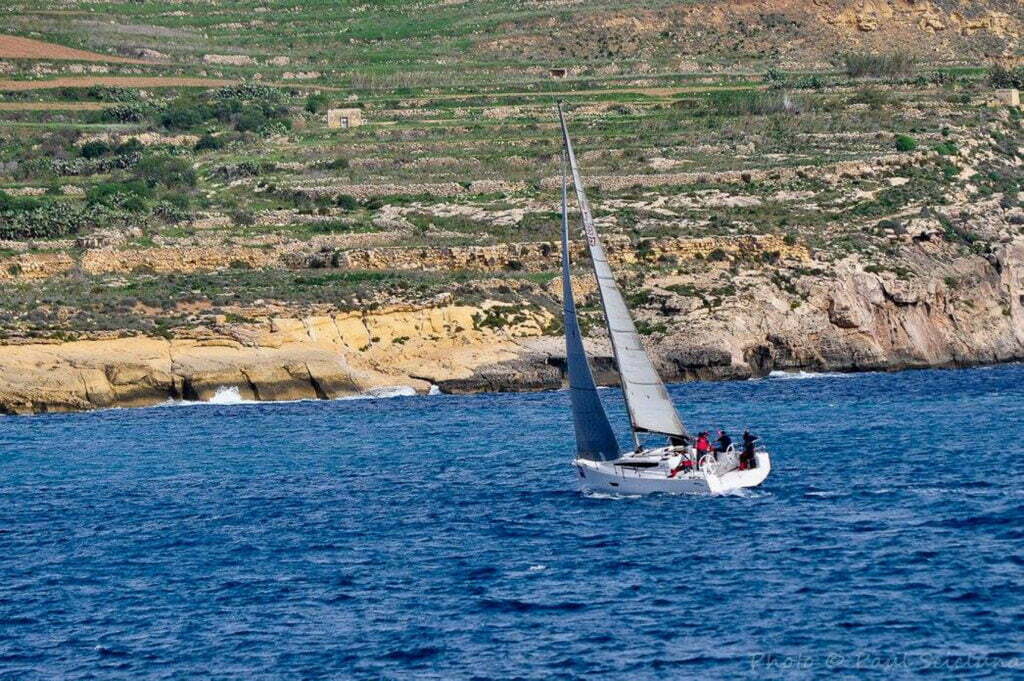 According to the President of the Gozo Sailing Club, it's the unspoiled coastline, clear seas and relative lack of power boats that makes sailing in Gozo so special.
"Gozo remains unspoiled," he explains. "You've got clean wind, open sea and it's full of coves and inlets just waiting to be explored."
The size of the island makes it ideal for sailing, as one can easily move to different destinations, or plan a route according to any changes in the wind direction or weather conditions. "In most places, such as Sicily, one would need a couple of hours to move from one place to the next. In Gozo you can be on the other side of the island in much less time," continues the president. "The island's small size is actually a huge advantage in this case."
That's not to say that weather conditions are volatile. Sailing in Gozo is a year-round affair, with the spring and summer months providing clear visibility and wonderful weather. There can, however, be a question of strong winds and choppy seas. Moving to another part of the island to avoid such conditions is a luxury few places can offer.
The fact that Gozo forms part of an archipelago of islands is also an advantage. As Gozo Sailing Club president points out, "You can sail to Comino from Gozo in five minutes. You can sail to Malta, or even to Sicily. In terms of sailing experience it is comparable with the Greek islands, except, of course, there are less islands! Nevertheless, the sea quality and the variety of coves and beaches are comparable."
The cleanliness of the water is also a huge draw for holidaymakers. It is amongst the cleanest in Europe at 100% according to the 2015 annual bathing water quality report of the European Environment Agency.
Are there facilities for beginners?
Of course! There are a number of sailing companies that offer day trips and excursions, providing different levels of involvement in the sailing process.
"Unfortunately there isn't a sailing school in Gozo as yet," says the President. "The Gozo Sailing Club is eager to teach people, in fact we did for a number of years, but we don't have the premises to do so properly. It's a pity as Gozo offers the perfect conditions to teach sailing, but if you want to learn how to sail, you currently must do so in Malta." He is hopeful however, that this will change in the near future.
Does an island like Gozo provide variety when it comes to sailing?
Yes. In fact, the President of the Gozo Sailing Club, is keen to emphasise that variety is very much a characteristic of the Gozitan sailing experience. "There are so many destinations in Gozo. There's lots of beautiful coastline, especially on the northern edge of the island. The west coast is cliffy and dramatic. If you're into windsurfing, Marsalforn and Ramla Bay are your best bets, although one must watch out for protected swimming zones."
His enthusiasm is infectious. "I recommend taking out a small dinghy, under 20 feet, and staying close to the shore. It's a wonderful way of exploring the coastline and enjoying the landscapes."
What about wildlife?
There's plenty of that too including flying fish, albatross, turtle, and the occasional dolphin if you're lucky. On the flip side, apart from dolphins, tuna and a solitary (and docile) mola mola last year, big fish are practically non-existent in Gozitan waters.
What about facilities for larger sailboats?
The Maltese Islands have long been a destination for large sail boats, and as such offer facilities to accommodate a large number of these vessels.
In fact, Malta is at the centre of the Middle Sea Race as both the start and finish line.
Gozo has a world-class marina in Mgarr Harbour. It provides fully serviced berths on floating pontoons, and includes a new facility for super yachts. There have been many studies and reports on the creation of a new marina, particularly on the East coast of Gozo. This however, is a project still at proposal stage.
Got a day to spend out on the water?
The Gozo Sailing Club has an itinerary that they are keen to share. Start off at Qbajjar in Marsalforn. The water there is clear and sheltered, so it's a good place to begin. Then sail to Xwejni Bay, and on to San Blas Bay. Explore the coastline; take your time. Move on to Ramla, then the stunning Ghajn Barrani area and, finally, Dahlet Qorrot. "It's a trip I often take in a dinghy. I would recommend dropping anchor anywhere," concludes the President of the Gozo Sailing Club.